I can't believe it's already time for E3 yet again. Last year we witnessed the next generation take place in the heart of downtown LA, and while the reveal of next gen was indeed exciting, the lack of content and games surrounding it was worrisome. After consuming loads of coffee and running around like a crazy person to the Microsoft, EA, and Sony pressers, it seems like the novel content we're craving for these new consoles is still off in the distance…. but at least now it's visible and not filled with empty promises.
While I have to go prep for day one of the expo, I wanted to throw together a quick/brief highlight roll of the conferences more based on personal opinion and what caught my eye… so off we go! Also forgive grammatical errors, when I mean quick I mean total word vomit. Prepare yourselves.
The Microsoft conference hit the day off first, as perusal. This year Microsoft equipped everyone with light of wrist bands that make the Galen Center look like a candle lit service of multi-colored strobe lights. They hit the ground running with Call of Duty: Advanced Warfare. Man, Activision and arms huh? Suffice it to say, I'm not a big CoD person, at all…. but the trailer had me intrigued, featuring more verticality in player movement, unique AI interaction (shielding), gorgeous graphics and facial design, and of course robots. This may help them find the innovation they need to change the series up and compete with games like Respawn's Titanfall.
There was an announcement for Dance Central Spotlight that will hopefully usher us into the use of the new Kinect. I'm way excited about this. I love the Dance Central games and generally respect Haramonix as a studio. It's downloadable only and salsaing it's way to Xbox One in September.
One of the biggest announcements to me was the Halo Master Chief Collection. When I heard that 343 was going to be releasing a remastered edition of Halo 2, I was skeptical. I bought Halo Anniversary and while it was beautiful to look at, I already had my time with the first game… and I already owned all of the others. But the Master Chief Collection is far more that a remastered Halo 1-4. It contains DLC, a live-action TV show (announced at last year's Xbox Reveal) that will lead into the plot of Halo 5 Guardians and will also include the beta for Guardians as well. More importantly, it will have the multiplayer, and favorite maps, from Halo 2….THAT is what sold me on this one. And beta, obviously…. but guys, Halo 2 multiplayer changed everything on Xbox Live. The intro trailer to the collection, a shoutout to one of the most fantastical scenes from 2, shows that 343 is respecting the universe the Bungie created.
If you were watching the press conference live and heard a loud high-pitched scream as a psychologist interviewed a young women suffering from potential PTSD was shown on the screen—that was me. While we don't know much about it yet, Rise of the Tomb Raider was teased and I died of happiness… which may or may not mean I'm currently zombie, but that's beside the point. I grew up with Lara Croft as one of the only female protagonists to look up to in games, and I'm so, so happy that Crystal Dynamics an Square Enix are continuing this.
The last thing that caught my eye, and a few tears, was Moon Studios' Ori and the Bind Forest–an action-adventure title that mixes exploration with emotional-narrative. It's due out this fall on the Xbox One.
The EA press conference was a little less stellar. It was fantastic to witness the passion in their development teams, but we were teased and left with little information on a lot of different titles. They showed some gameplay of Dragon Age: Inquisition, which looks phenomenal–a solid blend of Origins and II's combat, mixing the ability to hack-n-slash or plan attacks from above as well as the ability to seamlessly switch between party members. Bioware guys. Gah.
They also mentioned a new IP that is inspired by the Mass Effect franchise, so very excited to learn more about that down the line. Other then that, they showed us some Battlefield: Hardline which looks like a fun mixture of  GTA game anda Battlefield title. Burnout with a TON of different vehicles… that dev team is having a ton of fun experimenting with options for that game (SQURRIEL SUITS). There was also the Sims 4, which I'm still curious to see more of. It's the Sims, so I'll be getting it, but I haven't seen much the separates it from the 3rd game yet aside from the fluidity in AI personalities.
Of course, Mirror's Edge 2 was there as well, and Faith's character in herself is a huge point of concentration for the dev team–they are considering who she is and why she is designed the way she is–an aspect that shows EA is working on agency for a female protagonist and making that a priority for the team. Yes, yes, and yes. Sadly not much is known about release dates or the narrative, but at least we know it's happening.
The Sony press conference was equally as exciting as Microsoft's. They showed gorgeous gameplay of their new IP The Order 1886, which had seamless transitions between cut scenes and gameplay.
Sucker Punch announced DLC for Infamous Second Son that doesn't require you to own the game and features the charming Fetch as the protagonist (yet another female protagonist, yay Sucker Punch!). Very much looking forward to exploring her back story.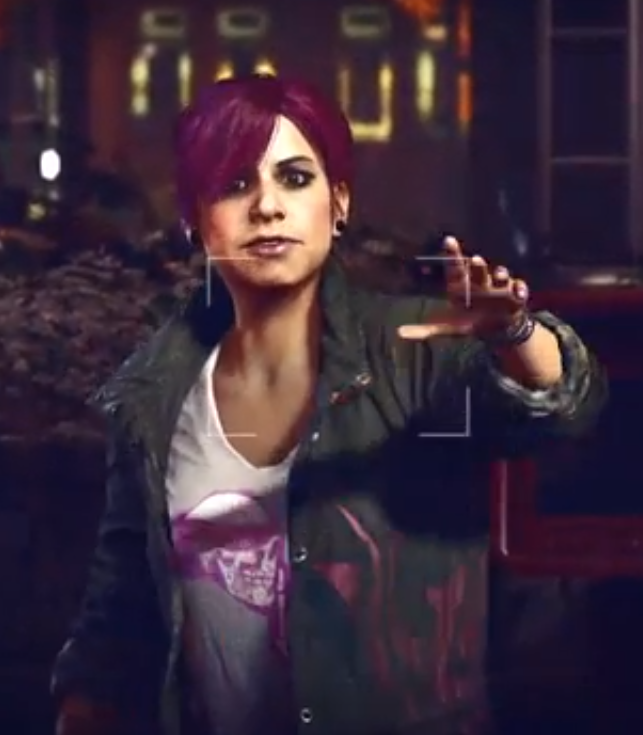 As perusal with Sony, there was a great display of indies on stage, including Entwined, a game that follows two souls in love that cannot be together. Each soul, displayed in gorgeous contrasting colors, is played by the separate analog sticks on the duel-shock 4 and as you go through levels the souls combine into a dragon and can create art. There is also No Man's Sky, a game so infinite that not even the developers know what sort of world players will discover.
Little Big Planet 3, unsurprisingly, looks absolutely adorable. The co-op game play looks intelligent and fun–a refreshing concept in a world where co-op games are normally only found when you're looking up the scope of a gun in first person.
Sony also showed us some footage of Batman Arkham Knight that included the batmobile. Ugh. I'm beyond excited for this title, it looks gorgeous and the controls seem far more fluid than Arkham City. Hopefully Rocksteady can revive the franchise… because Batman.
To end quickly, what's great this year is there was a balance. There was still mocking and finger pointing in some respects, but a mixture of listening to communities and PR (and Phil Spencer) helped bring Microsoft get back to the same level as Sony, both companies ending with a promise of focusing on making good games. And that's what we need. No immature high school finger pointing, but a general respect and wanting to move the medium of video games forward.